Director:
Kang Shin-Hyo, Boo Sung-Chul
Cast:
Lee Min-Ho, Park Shin-Hye, Kim Woo-Bin, Jung Krystal, Kim Ji-Won, Kang Min-Hyuk, Kang Ha-Neul, Park Hyung-Shik, Jun Soo-Jin, Jo Yoon-Woo, Choi Tae-Hwan, Yang Seung-Pil
This drama follows a group of privileged, elite high school students as they are groomed to take over their families' business empires. These wealthy students seem to have everything under control–except their love lives. Kim Tan (

Lee Min Ho

), an heir to the Empire Group, was sent to study in the U.S. In reality it's a form of exile, as his elder half-brother back home, Kim Won (

Choi Jin Hyuk

) schemes to take over the family business. While in the States, Kim Tan bumps into Cha Eun Sang (

Park Shin Hye

), who's arrived from Korea in search of her older sister. He feels himself falling for her, never realizing that she's the daughter of his family's housekeeper. When his fiancée Rachel Yoo (

Kim Ji Won

) arrives to bring him back to Korea, his heart is torn between love and duty. Meanwhile, Rachel's half-brother Choi Young Do (

Kim Woo Bin

) develops his own crush on Eun Sung. Who said being a rich, beautiful high school student was easy?

(Source)

What I think:
The Heirs became one of my favorite Korean dramas because of three reasons:
1) Its love rivals and family conflicts are superb! Without its rival and conflicts, this would be nothing (of course, like any other stories!). These made The Heirs really thrilling because you'll anticipate what Kim Tan's father would do just to separate him and Cha Eun Sang, and in return, what would Kim Tan sacrifice just for Cha Eun Sang. Kim Tan's physical fights with Choi Young Do is the best!
2) Complicated Character Relationship. Yes, you read that right. I love how many characters are related in one way another. At first, I was really confused. So, I searched in the internet the character's connection with each other, and I found this picture and it helped me a lot. Looking as complicated as it is, the writers and director did a really great job.
3) Lee Min-Ho. DUH! Haha! Gosh, he is so handsome. He really did such an outstanding job portraying a matured high school student which is contrary to his role in Boys Over Flowers. I have to commend Kim Woo-Bin's acting skills as well! He is really good. He was able to pull off the bad-boy-who-has-a-soft-heart image. I didn't quite like Park Shin Hye's role though. She's quite irritating to me. There are scenes where no one needs to cry, but there she is, about to cry. Sigh. I can't blame her though. Maybe it's in the script or whatever.
I really, really, really love The Heirs. If there would be one drama that I would be glad to watch again, it would be this. Who would not want to scream over Lee Min-Ho and Kim Woo-Bin, right?
My Rating and Recommendation:
I recommended this to almost everyone I know! Go watch it!
***************************************************************
Director: Jun Ki Sang


Cast:
Ku Hye-Sun, Lee Min-Ho, Kim Hyun-Joong, Kim Bum, Kim Joon
Synopsis:
Jan Di is an average girl whose family owns a dry cleaning store located near the luxurious and well known Shin Hwa College. Jan Di meets the four richest and most spoiled boys known as the F4. After saving a boy from jumping off the roof of Shinhwa High School, she is admitted into the school on a swimming scholarship. Jan Di tries to avoid confrontation with the F4 at all cost because she knows what happens to those that stand against them. However, when Jan Di's friend, Oh Min Ji, accidentally gets ice cream on the leader of the F4′s shoes, she's forced to declare war on the leader of the F4, Goo Joon Pyo. (Source)
No offense meant

to

Boys Over Flowers (BOF)

fans out there, but this is the most childish and

unrealistic drama I've watched so far. Yes, I have to underline 'unrealistic' because it is the best adjective that describes

BOF. First of all, it is impossible to have a school such as Shin Hwa High School. Even though a rich family owns a school and let's their child study in it, I doubt they'd be given a special treatment. Moreover, his barkada. Second, is this specific scene where Gu Joon Pyo and Geum Jan Di was riding a helicopter, and Gu Joon Pyo showed her this heart island saying that he is waiting for the girl he loves to show it. I find it corny, and again, unrealistic because I don't think someone could be that rich. Also, there is this scene where Gu Joon Pyo waited for Geum Jan Di during a snowy weather. Let's say he didn't expect the weather to be like that, but he doesn't have to be a martyr and wait in the tower while it's freezing cold. He could have ordered one of his chaperones to bring/buy him an umbrella if he doesn't want to leave his spot. It's kind of idiotic, if you ask me. Lastly, BOF is a childish high school drama. I don't know, maybe The Heirs set my standards high. I was expecting so much from BOF because many k-drama lovers in my country loved it. I guess I don't belong. However, NOT all 25 episodes are about childishness. Not really. In fact, I have a couple of favourite episodes. It gave me a titillating feeling, somehow. I guess it's Lee Min-Ho's work. ;-)
Heart Island my butt
Gu Jun Pyo waiting for Geum Jan Di. What a martyr.
My Rating and Recommendation:
I'd give it a 2.5. Somebody give me the Most Generous award.
I don't recommend it. But if you're a fan of Lee Min-Ho, or anyone in the cast, then give it a try. I'd say Meteor Garden still did a better job in remaking Hana Yori Dango.
***************************************************************
Director:
Shin Woo-Chul, Kwon Hyuk Chan
Cast:
Hyun Bin, Ha Ji Won, Yoon Sang Hyun, Kim Sa Rang
Synopsis:
Kim Joo Won (Hyun Bin) is the dream of every woman: he is young, rich, handsome, well-educated and he is the C.E.O of a big department store. However his bossiness and arrogance can not shield his heart from an unexpected and unlikely love. Gil Ra Im (Ha Ji-Won) is a professional stunt actress: she drives, fights and talks like a man. She is exactly the opposite of what he is looking for: poor, under-educated, old (30 years old), from an ordinary family. However, when Kim Joo Won attempts to do to a small favour to his cousin and famous singer Oska (Yoon Sang Hyun) -- of course in return for a profitable business -- he mistakes Gil Ra Im for the leading actress. From that moment on his comfortable and luxurious life shatters and the piercing love of this extraordinary woman over takes his life. As the story progress, fate, love triangles and magical potions (which made them switch bodies!) make their life more complicated, but nonetheless more thrilling and funny.
What I think:
I love Secret Garden. It never failed to make me laugh and even cry (in one of its episodes). I like the actors' acting -- they never overdone anything. I can't say much about this as this is Korean drama is full of comedy (like seriously. I love it) and love triangle (which is actually good compared to other dramas).
My Rating and Recommendation:
***************************************************************
MY LOVE FROM THE STAR (2014)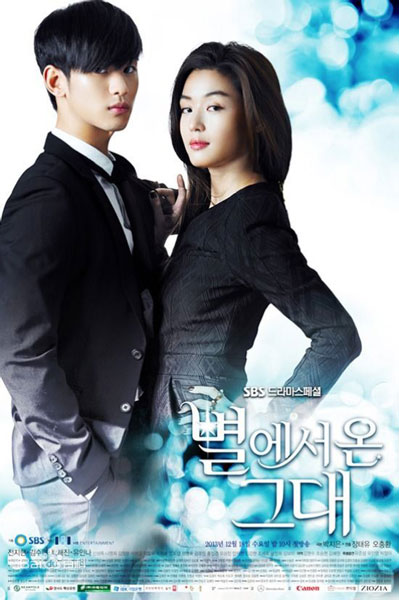 Director: Jang Tae-Yoo


Synopsis:
Do Min-Joon (Kim Soo-Hyun) is an 'alien' who was sent to Earth 400 years ago during Joseon dynasty by the planet where he was living. Do Min-Joon is no ordinary. He has the ability to teleport, listen through thick walls, stop time, and move in such speed. Living that long, he was able to do much in his life like studying and mastering law and medicine, making him even much better than the short-lived lawyers and doctors in Korea. In the present day, there were reports about a comet or an asteroid (I'm not sure) passing through Earth, which means that Do Min-Joon's time on Earth is about to end – he could finally go back to his planet. Just 3 months before his departure, Do Min-Joon had an encounter with Korea's superstar, Cheon Song-Yi (Jun Ji-Hyun), and fell in love with her. Leaving the Earth was all he wanted before. But now that there's a reason – someone – for him to stay, he will make the hardest decision ever: to stay on Earth and die, or go back to his planet and live.
Cast:
Jun Hi-Hyun, Kim Soo-Hyun, Park Hae-Jin, Yoon In-Na, Shin Sung-Rok
This is by far the best drama in 2014, not to mention one of my favorites. With its funny, thrilling, and titillating plot, it is impossible for anyone to not love My Love From the Star (MLFTS). Yes, it's funny and titillating; but you may be wondering what's thrilling. Well, similar with Missing You, there's this serial murder case that they've been trying to solve for like the 3/4 of the drama. There's this touch of mystery and annoyance with the killer. Needless to say, Shin Sung-Rok did a great job in acting out his role (because he, indeed, looked like a killer. LOL). Unexpectedly, MLFTS HAD ME IN TEARS. Yes, I cried. I didn't expect myself to cry; moreover, I didn't expect MLFTS to give me such emotion in the near end of the drama because of its really entertaining plot. If only I'm not watching the last few episodes with my mom, I would have sobbed like this:
instead of this:
But still, the bottom line is I CRIED OK.
My Rating and Recommendation:
I'm telling you, GO WATCH IT.
Here's something for you to listen while you're having a hangover with the drama:
***************************************************************
Director:
Lee Jae-Dong, Park Jae-Bum
Cast:
Park Yoo-Chun, Park Shin-Hye, Yoo Seung-Ho, Han Jin-Hee
Synopsis:
15-year-old Soo-Yeon (Kim So-Hyun) is a victim of bullying at school. They target her, because her father is a murderer. Soo-Yeon has an ally in Jung-Woo (Yeo Jin-Ku), who always protects her from the bullies. Soo-Yeon and Jung-Woo are in love, but due to an unexpected accident they become separated. Now as adults they meet again through destiny.
Jung-Woo (Park Yoo-Chun) is now a detective and his first love has always remained in the back of his mind. Soo-Yeon (Yoon Eun-Hye) is now a rookie fashion designer who tries to have a bright personality, but still carries emotional scars inside of her. Hyung-Joon (Yoo Seung-Ho) is Soo-Yeon's lover, who appears warm and nice, but he will try to take vengeance upon Jung-Woo. (

Source

)
What I think:
Even though it is a romantic-melodrama, Missing You didn't lack in making its viewers anticipate the next episodes by putting a lot of crime stuff and funny scenes. However, I got kind of tired with too much of its drama. I have to admit that the first few episodes didn't hook me. I guess I'm not a melodrama lover. This drama teaches us the value of love, family, friendship, and most of all, forgiveness. I love, love, love Park Yoo-Chun in this drama. Teehee.


My Rating and Recommendation:
This is perfect for crime-melodrama lovers. :-)